Photo and Video Gallery
You can now find all our photos on our main school twitter feed @CalderPrimary (found on our website homepage), and our class feeds @cp_class1 @cp_class2 and @cp_class3 (also available to view on our 'classes' website page)
Here are some archived photos from the past to enjoy!
Hey Ewe Nativity 2018
the sleepy shepherd nativity
This year our nativity is The Sleepy Shepherd, accompanied by Classes 2 and 3 sharing poems, stories and songs.
Class trips Autumn term 2016
Class 1 visited Tropical World in Leeds as part of their topic about weather around the world, Class 2 visited The Imperial War Museum North in Manchester for their World War I topic, and Class 3 spent the day in Liverpool visiting The Beatles Story museum, Pier Head museum and 4D cinema for their 1960's topic.
Cricket
Well done to our cricket team who took part in the HX7 competition at Old Town Cricket Club this week and came an excellent 3rd place!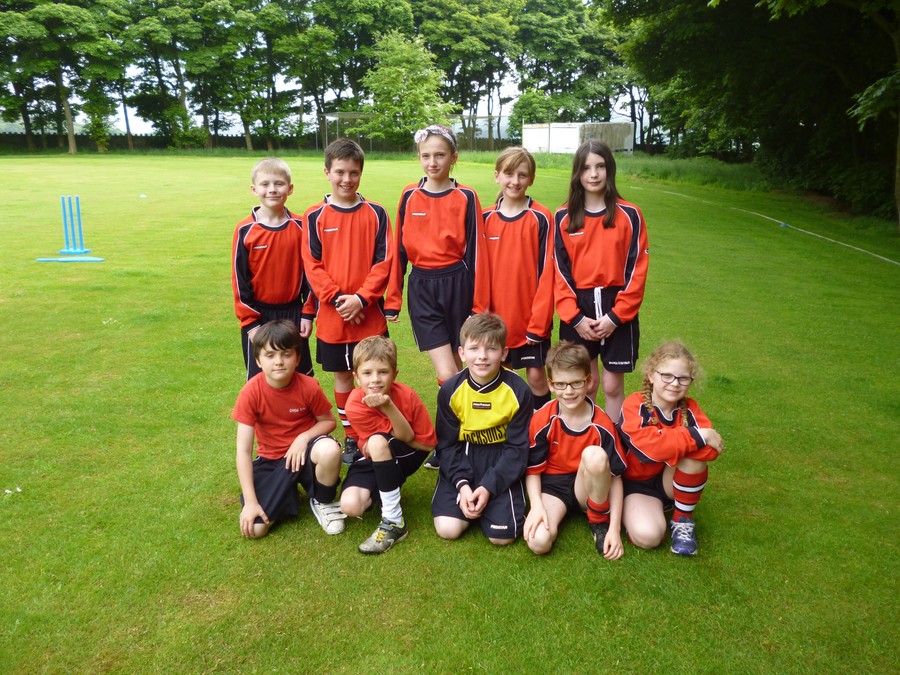 4D Pop Up Experience
On Thursday 26th May, it looked like aliens had landed in the school hall! We were lucky enough to have been chosen to trial a new 4D pop up experience. Class 1 had a favourite story book come to life with images, sound and lighting. Class 2 travelled to different settings including space and a deep dark forest with a story they had written together coming alive. Finally Class 3 worked with the technicians to create a 4D experience with written stories, choosing the lighting and sounds and sequencing it together for a final, spectacular performance. The technical team commented how impressed they were with our pupils - their behaviour, their technical knowledge and interest and their creative story writing abilities.
World Book Day Winners
10 pupils were accompanied by Miss Smith and Ms Connolly to the World Book Day event at Halifax Central Library. They took part in workshops with author Tom Palmer and a big book day quiz, which they won! As well as this Tallulah and Libby won prizes for their book reviews which were submitted ahead and the staff won the staff quiz prize too!
Birds of Prey
The Welsh Bird of Prey Centre visited us on 25th May and brought along a selection of falcons, buzzards and owls. We learnt all about them including their habitats, diet and interesting facts such as wing span and top speeds. We were able to ask questions and found out more online after the session.We learnt about handling,and some pupils even got the chance to hold the falcon and Eagle owl!
Big Cookathon and Cookery Club
Parents and families joined Class 1 pupils to take part in the Children's Food Trust Big Cookathon 2016 and made a vegetarian cottage pie together. The older pupils also took the recipe home to enter the competition as a family or friends group entry. Everyone had a great afternoon weighing, peeling, chopping and mashing together and the results looked tasty!
Class 1 have then continued with cookery club this term - so far they have made potato and sweetcorn fritters and omelette popovers with crunchy slaw!
May Day Fete
Despite the weather, we had a great turn out at our May Fete and community Artisan Market again this year. Our thanks to FOCVS who organised games, face-paining, hog-roast, bouncy slides and more! Each class performed a maypole dance, accompanied by Mr Harris on the violin and our duck race was sold out! We raised £1500 for school - an excellent amount!
Growth Mindsets
Class 3 pupils have been busy teaching our school all about #CraggChallenge learning, which is all about growing your mind to achieve! They are now teaching other schools about it and went to visit Halifax Academy Primary Phase to lead activities and inspire them. Well done Year 6!
Netball
Well done to our Netball team who competed in the HX7 competition at Calder High School. They worked hard to improve as they played - ending their 4th and final match with a 6-1 victory against Riverside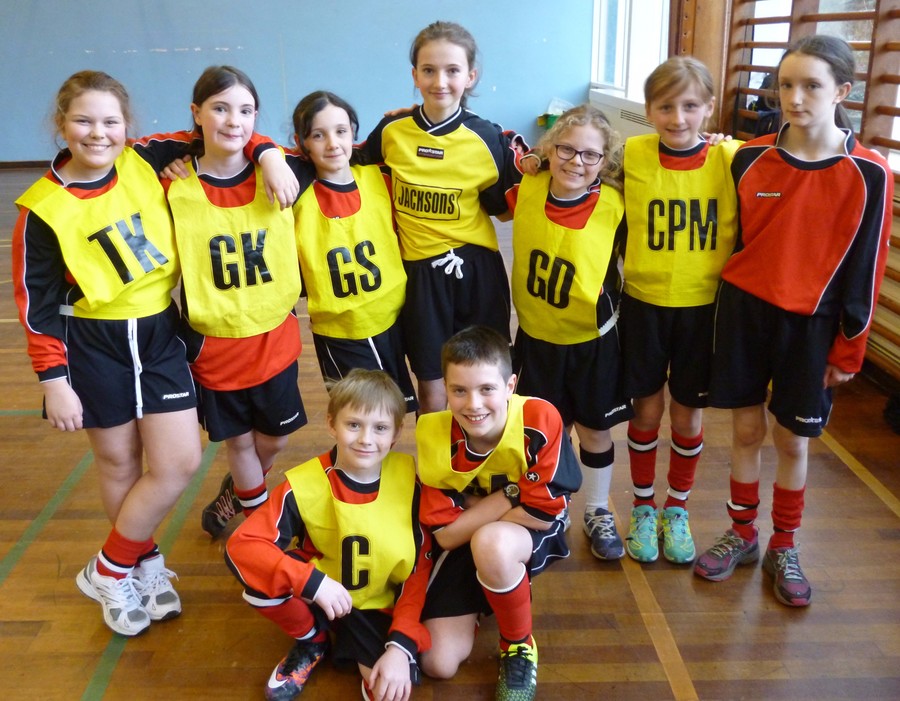 Easter
Here are some photos of our walk to St John's Church for our Easter egg hunt for pupils and new starters; our house egg rolling competition, and our bonnet and decorated cards and eggs competitions.
Hebden Bridge Rotary Duck Competition
Here is our entry for the Rotary decorated duck competition! Look out for it in a shop window in Hebden Bridge and vote for it please!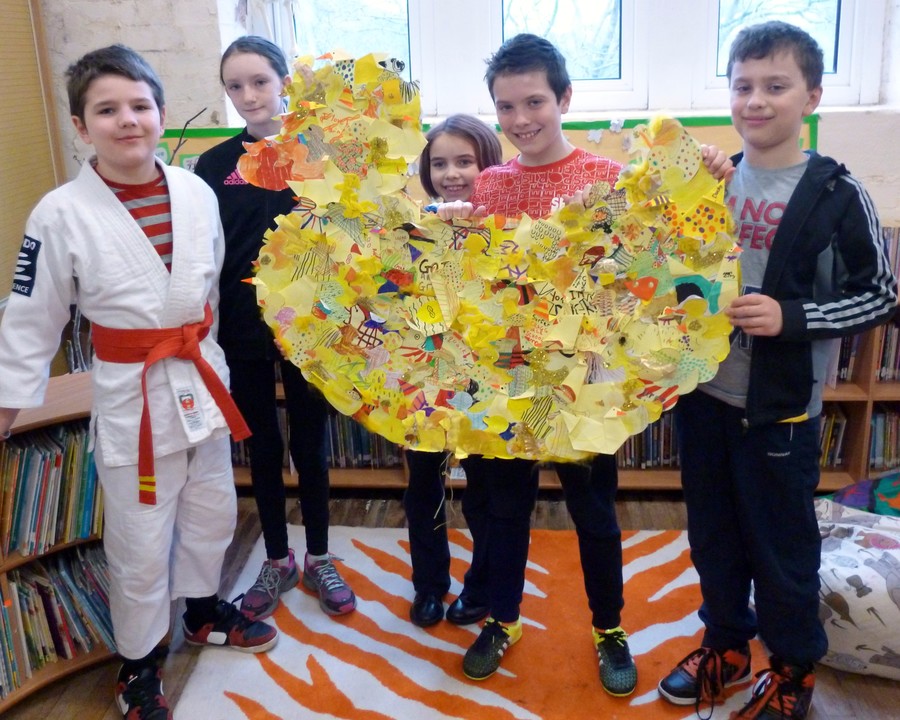 Class 2 Victorian Day
Class 2 spent the day at Heptonstall museum going back in time to experience life as a Victorian school child. They were met by the headmaster and put through their paces with the National Anthem, times tables and handwriting on slates and with ink pens. In the afternoon they then learnt about the infamous Cragg Vale Coiners and looked at special artefacts.
World Book Day
Pupils and staff looked fantastic in their outfits for World Book Day! Pupils shared their books with the rest of the school and took part in a whole school 'bumper book quiz', with 'Team Awesome' (Erringden House Team A) winning overall. We also raised money for BookAid International - a charity which sends books to children in Africa and helps set up libraries and book clubs to promote a love of reading.
Film School
Our Friday Activity this half term is film school! Each class is learning about movie making techniques, such as stop-motion animation and using Aurasma apps to share their films. Here are two taster films from their first sessions.
Healthy Week
From 22nd February was Healthy week in school incorporating national health day. Pupils took part in a variety of activities to promote healthy bodies and healthy minds including yoga and meditation, cookery, fun education and fitness sessions led by Calderdale's Better Living Team and holding a special tuck shop to raise money for Sport Relief. The homemade tuck shop and yoga were big hits, and will definitely be repeated.
Class 3 Murder Mystery
The year is 1871 and two of the servants have been found murdered at Bankfield Mansion - the home of Colonel Edward Akroyd. Children meet the suspicious Mr Michael Magner, the house steward and Miss Hayley Hill, the governess. Children turn detective to help the police with their enquiries and establish a series of motives. Hopefully the murderer will be apprehended in good time..
Class 3 had a great day problem solving at Bankfield Museum. As well as the murder mystery, they also had time to explore the other World War I and local heritage collections and the special 'Time Keepers' exhibition. One Year 6 pupil came back to school and announced their day was 'like a real life game of cluedo!'
Valentine's Disco
Class 1 were joined by playgroup children for their fun afternoon disco, then Classes 2 and 3 returned to school for an evening disco with cocktails, games, limbo and dancing. What great dancing skills!
Hebden Royd Town Council Meeting
Our School Council, accompanied by Miss Shepherd, attended a meeting at Hebden Royd Town Council on Wednesday 3rd February. They had prepared beforehand by reading the minutes from the last meeting and the agenda, and by meeting to agree their points to bring forward - including 20mph and a crossing outside school and flood defences for Mytholmyroyd. They also got chance to explore the chambers, talk about wards and parishes and find out about how the Town Council operates. We will now wait to see if the Council put any of our suggestions into place.
Class 2 Ukulele
Class 2 are learning the Ukulele each week with Mr Thomas from the Calderdale Music Hub. Here they are in action playing and singing along to 'Best day of My Life', which has the chords D and G as well as rhythms to tap in time to.
Christmas
This year all our pupils played their part in telling the traditional Christmas Nativity Story. Our audience was lead down to Bethlehem by our KS2 story tellers to a magically lit stable where Class 1 acted out the story.
During Christmas week we also: had a whole school visit to the pantomime 'Cinderella' at the Victoria Theatre; ate Christmas lunch with our buddies; wore Christmas jumpers to raise money for Text Santa; had visits from playgroup and Santa, cooked mincemeat and Victorian treats for cornicopias; took part in Shop and Wrap and partied!
Outdoor Learning
Here are some photos of Class 1 enjoying learning outside - whatever the weather!
Singing on the Station
A choir of 10 Key Stage 2 pupils joined with other local schools to sing to commuters in Mytholmroyd and Sowerby Bridge on Monday night. They also sang on the train and were congratulated by the driver. Father Christmas made an appearance to give the children a copy of The Railway Children to read as a thank you.
Class 1 Trip to Bankfield Museum
Class 1's topic this half term is Toys. They have been designing and making their own toys, investigating materials and different designs, and studying toys from the past. They visited Bankfield museum where they were able to handle lots of old toys and find out about who would have played with them and how they worked.
Anti-bullying Week
Last week, from 16th - 20th November, was national anti-bullying week. This was a focus at Cragg Vale in our daily assemblies and PSHCE lessons and children also learnt about internet safety and cyber bullying in their computing lessons. All our pupils signed up to the Anti-bulling Alliance's 2015 #makeanoiseaboutbullying, and this charter is now displayed in our school hall. Pupils also worked with Miss Shepherd to come up with ideas to share our anti-bullying work with parents and carers too - more to come soon! There are links to e-safety information under our 'general information' pencil.
Guy Making
Our annual guy making event was as popular as ever, with nearly all the pupils - and lots of parents - working in house teams to make a Guy for the Cragg Vale bonfire. On Friday 6th November,Class 2 lead assembly and taught us all about the history of Bonfire night. Then Mr Nelson, who organises the Cragg Vale Bonfire, had the difficult task of judging the best Guy for the top of the bonfire. Well done to all houses - but especially Withins!
Class 3 Visit Stirley Farm
On Friday 20th November, Class 3 visited the Yorkshire Wildlife Trust's Stirley Farm in Huddersfield.
In the morning they worked in teams with a shopping list to gather ingredients including vegetables and herbs - but from the vegetable plots not the shops! They then washed and prepared them and made them into winter vegetable soup, beetroot slaw and homemade herb bread rolls for lunch which they served and ate together.
In the afternoon they took part in 'I'm a survivor' sessions where they studied food chains, shelters, fire building and tracking.
The children had a great day, despite the challenging weather and took their recipes home to try with their families.
Bingo!
Friends of Cragg Vale School (FOCVS) hosted a bingo night for children, siblings, parents, grandparents, local residents and many more! Bingo was a new social event for Cragg Vale, but was enjoyed by all. Our thanks to Marcus, a friend of the school, for being our bingo caller, and to the focus team for providing refreshments. We also raised £175 for FOCVS funds from the event.
Friday Activities
For Autumn 1 half term the activities are: sewing, arts and crafts, photography and street dance. Pupils have chosen which activity they would like to participate in each Friday for an enrichment hour. Our activities are lead by class teachers and teaching assistants in small groups and we also have a parent helping with the photography group. If you can offer a new activity for the Spring term or can help with a group, please talk to Miss Shepherd. Pupils have particularly enjoyed working with children from different year groups and different adults in school to learn a new skill.
Redacre Updates
Each class is visiting Redacre this month to check on the progress of our 'garden for wildlife', which we researched, designed and planted to encourage butterflies and bees into the allotments.
Here are Class 3 pupils enjoying the September sunshine as they explore the vegetables in Mrs Harris's plot, build a minibeast hotel to encourage more wildlife and water our magnificent flowers!
Gardening
As part of our food for life work, each class has grown vegetables in our raised beds. Class 1 have grown potatoes, Class 2 courgettes (a work in progress!) and Class 3 broad beans. The children planted them from seed and nurtured them throughout the Summer term - often asking 'Can we go and visit the beans?' Here are Class 3 and their successful harvest!
Year 6 Leavers Event
Year 6 arrived in style to their leaving event. This year they went rollerblading at the YMCA in Halifax and then had tea at Frankie and Benny's. Well done to all our Year 6 pupils for their excellent achievements this year, it was lovely to see them celebrating together.
Class 3 Residential
Year 5 and 6 pupils, accompanied by Miss Shepherd and Mrs Morris, spent a fantastic 3 days at Manor Adventure in Lockerbie, Scotland. They took part in many new and challenging activities including rifle shooting, abseiling and mountain biking. Behaviour was excellent and it was declared the 'best trip ever!'
Rotary Young Writer Winner!
Earlier this year, all our Year 5 and 6 pupils entered the local Young Writer Competition for Hebden Bridge Rotary Club. Meredith Batty was our School Winner and Cerridwen Gray was the Hebden Bridge Winner, with her entry then going forward to the national competition. Thousands of pupils across the country took part altogether.
We are thrilled to announce that Cerridwen went on to be the overall Junior winner for Rotary's national 2015 Young Writer Competition. Cerridwen is pictured here with Rotary Club of Hebden Bridge President Derek Bispham and Rotary District 1040 Governor Rod Walmsley, who presented the award and a prize.
If you would like to read Cerridwen's entry or find out more, please follow these links:
http://www.rotarygbi.org/young-writer-2015/ http://www.hebdenbridgerotary.org.uk/
Kenneth Caberry Award
Last week we welcomed Councillor Boggis to our whole school assembly. He talked to us about his role in Hebden Royd Town Council and about books he enjoys. He also asked about popular books at our school. The librarians told him about their ideas for further adding to the library. Then Councillor Boggis presented our school council with the Kenneth Caberry Award of £100 towards this.
Lunchtime helpers
When pupils completed their annual survey, they told us they had some suggestions for lunchtimes. Our older pupils worked with Miss Shepherd to implement their ideas. This has included pupils helping to lay the tables and serve the salad, both to help reduce queueing and encourage pupils to enjoy the salad selection. They have been really enjoying this new responsibility.
Aladdin Trouble
Every pupil in our school had a role in our end of term production of Aladdin Trouble and they worked very hard to put on a fantastic show despite the warm weather! Well done everyone!
Whole School Visit to Lytham St Anne's
On Monday 22nd June, all pupils and staff spent the day at the seaside! Class 1 have been studying 'The Seaside' as their class topic, Class 2 'Great Great Britain' and Class 3 'Coasts' so it was the perfect opportunity to explore a traditional coastal town. We visited the Victorian pier and bandstand, looked at sea defences and took photos on our pupil cameras. Then we spent the afternoon on the beach, working as teams to build the best sandcastle, flying kites and paddling. A great day was had by all (and we were extremely lucky with the weather!)
Key Steps Gymnastics
Throughout May and June, pupils from Key Stage 2 have been perfecting their gymnastics skills, ready for the Key Steps Gymnastics competitions at Diamonds Gym Club in Halifax. Both our Year 3/4 and Year 5/6 teams represented us extremely well, looking very smart in their new kits. Year 3/4 were 7th out of 20 teams, and Year 5/6 4th. Well done!
Talent Show
On Friday 22nd May, our Schoool Council hosted 'Cragg Vale's Got Talent' to raise money for the Nepal Earthquake Fund. Children donated money to enter and for refreshments and we are hoping to raise £100. There was an excellent selection of acts, including magic, gymnastics, Taekwondo and dance. Well done everybody!
May Day Fete
Our May Day Fete was a fantastic local event this year as we joined together with Cragg 15 and members of the community to hold a joint event. There was music, dancing, games, local artisan produce and crafts and of course our annual duck race!
A big thank you to our Friends of Cragg Vale School (FOCVS) and Cragg 15 for organising the event, which raised approximately £1600 for our school.
Well done too to all the children who performed 3 spectacular Maypole dances and helped to sell ducks for the event too. A special mention to Daniel in Year 6 who sold 200 ducks this year!
Easter Fun Morning
On the last Friday before the Easter holidays, we held our annual Easter fun morning. Children entered competitions for the best Easter cards, decorated eggs and Easter bonnets and also took part in the house egg rolling competition. We then walked down the St John's church to hunt for our Easter baskets, with Year 6 helping their buddies before returning for hot cross buns with our families cooked by FOCVS. What a busy morning!
World Book Day
For World Book Day 2015, children and staff came dressed as characters from their favourite books and brought the books in to share with the rest of the school. We also held a whole school book quiz in house teams, with Stoodley being the overall winners - although it was very close!
Rokt
On Tuesday 11th February, Class 2 spent the day taking part in adventurous activities at Rokt climbing gym in Brighouse. They spent half a day developing their rock climbing and bouldering, working as a team to belay and support each other. Then they took part in a variety of caving and team building exercises.
Visiting Poet
On Tuesday 3rd February, local poet Craig Bradley spent the morning at our school.
He lead an assembly for the whole school, with lots of audience participation, and then a poetry workshop with Class 3 pupils. There was also the opportunity for children to purchase his poetry books and have them signed.
Craig created a real buzz about poetry around school, with children of all ages writing tongue twisters and funny poems, and a great morning was had by all.
Cookery Club
As part of our work towards the Food for Life Award, we have introduced a new cookery club at Cragg Vale. The children are learning how to prepare tasty, homemade meals using fresh fruits and vegetables, which they can take home and share with their families. Here are some pictures of our KS1 children preparing apple, raisin and cinnamon crumble.
Cragg Vale Community Heritage Trail Project
Cragg Vale School has been asked to be part of the Community Assosciation project to develop a heritage trail in Cragg Vale, to showcase the history and natural beauty of the local area.
Each class has been on a nature walk, looking at the possible sites for information boards and looking at the historical buildings and wildlife found in each location. They are now producing art work to illustrate these heritage boards and also form a gallery in The Robin Hood.
These photographs were taken by the pupils.
Whoops-a-Daisy Angel
On Tuesday 9th and Wednesday 10th December, the whole school staged their Christmas Nativity 'Whoops-a-Daisy Angel'. Class 1 children acted out the story, whilst Class 2 and 3 children supported with the singing. The junior pupils also performed three additional songs: Santa Claus is Comin' to Town, Rudolph (with signing) and Follow that Wondrous Star.
Christmas Fair
On Saturday 29th December, Friends of Cragg Vale School (FOCVS) held their annual Christmas Fair. There were lots of stalls including local businesses, crafts made by each school house, games, cakes and much more! There was even a hog roast on Class 1's patio and a visit from Father Christmas. We raised a fantastic £1085, which will be used by FOCVS to fund class visits and resources in school. Thank you to everyone for their support.
Class 3 Liverpool Visit
On Monday 24th November, Class 3 spent the day in Liverpool to finish their topic on the 1960's in style! They visited the Pier Head Museum's 4D Beatles Cinema and Grammy exhibition, The Museum of Liverpool and The Beatles' Story. They had a fantastic time: dancing in The Cavern Club, exploring The Yellow Submarine, dressing up and playing records in a Liverpool record shop and finding out even more about life in the 60's.
Class 2 Visit to Bankfield Museum
On Monday 3rd November, Class 2 visited Bankfield Museum in Halifax to look at their special exhibitions on World War One. They took part in different activities and workshops, including investigating the uniforms and first aid, and really enjoyed finding out more about their class topic.
Children In Need
On Friday 14th November, we donated money to dress as chefs and cooks for the day. We also held a Great Cragg Bake Off, where children decorated cakes with a 'hero' theme and Year 6 held a bake sale. Find out the final total raised in our Friday Assembly next week, well done everyone!
Red Acre Project
All three classes will be working on projects at Red Acre allotments this year. They all enjoyed their first visits where they had a tour of the site, met the chickens and bees and found out more about them, and planted some wild flower seeds to attract insects such as butterflies and bees to the site. They will now be researching and designing back at school, ready for their next visits.
Tour de France Celebrations
Parents, Staff and Pupils took part in a special afternoon to celebrate the Tour de France coming past our school. The Eiffel Tower building contest was the highlight of the afternoon!
Year 6 Leavers Event
Year 6 travelled in style to their leavers event - a surprise trip to Hollingworth Lake for a session of Kayaking fun and games. They then enjoyed fish and chips in the pavillion to warm up!
Awards
On Friday 11th July, we had 2 special visitors to our Awards Assembly.
Councillor Timbers, Mayor of Hebden Royd Town Council, presented school with the Kenneth Caberry Award- £100 to purchase new books for our library.
Mr Trevor Harris also came along to present us with our Healthy School Award, which we have been working towards all year in school. He had some tricky questions for us to answer first though, to prove we are a healthy school!
School Daze
This week the whole school took part in our end of term production of 'School Daze', with Year 6 pupils taking on the lead roles. The children thoroughly enjoyed all elements of putting this together, including acting, dancing, singing and stage production. Thank you to everyone that helped us and that came along to watch and support.
Temple Newsam
On Wednesday 2nd July, Classes 1 and 2 visited Temple Newsam, near Leeds. Class 1 took part in a crown making workshop,and Class 2 found about The Tudors, including a tour of the house for clues and artefacts. They also had a picnic lunch and had time to explore the farm and grounds in the afternoon. A great day was had by all!
Calderdale Book of the Year
Year 5 and 6 pupils have been reading selected books and writing reviews for the authors. They took part in a Literary Lunch on Wednesday 25th June to meet the authors, discuss the books and take a final vote. 3 of our pupils also received prizes for their excellent book reviews.
Rhythm in the Ridings
12 of our Key Stage 2 pupils attended workshops to write a special song for the Tour De France. They then rehearsed and performed 13 songs in total in the Woolshops in Halifax on Saturday 26th June.
Robinwood 2014
Class 3 once again enjoyed a fantastic three days at Robinwood. They took part in outdoor and adventurous activities as well as developing team work skills.
Key Steps Gymnastics
A team of 5 pupils attended Diamonds Gym Club in Halifax to perform 2 rountines and a vault each. They were a credit to our school, finally ending in 5th position (with only a few points separating the top 5!)
World Book Day
The whole school enjoyed a special day to celebrate World Book Day. Each class had a theme: Class 1 - Beatrix Potter, Class 2 - Roald Dahl and Class 3 - Wind in the Willows. There were various activities including a whole school book quiz!